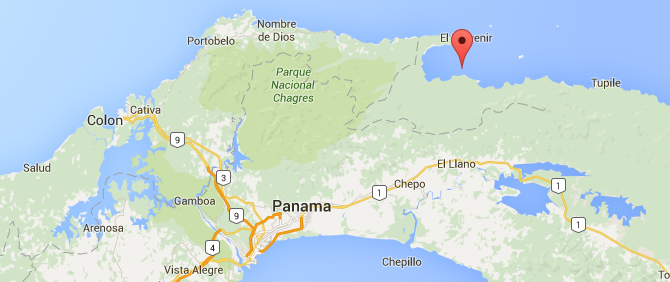 Credit – Google Map Panama city to san blas islands
Transfer Panama City San Blas
There are two ways to get in San Blas :
By land, with taxi 4×4 (private or shared) or your own 4×4 car and water taxi (lancha)
Shared taxi all depart from panama city around 5-6am and can pick you up at your hotel. Cost is 25$ per person (one way), and duration trip to Carti (san blas) about 3h. Private taxi are also available for about 150$ (and duration trip will be only 2h30). You may also come with your own car as long as it's a 4×4 model. There is also a parking lot in Carti.
Then, from Carti,  you'll have to take a lancha (water taxi) that will bring you to the boat. Our taxi will make an easy and quick connection for you, so you don't have to wait. Cost for lancha transportation will vary from 5$ to 20$, depending on where the boats is, and trip duration will be from only 10 minutes to 30-40 minutes.
All the taxis we are working with are safe and reliable, and cars in good condition, all equipped with air conditioning
Typical 4×4 Taxi model
Kuna Lancha
By air, check out airpanama.com for more info
All flights depart from Albrook airport (PAC) in Panama city, around 6am. Cost is about 80$ per person (one way), and you may choose either Porvenir (PVE) airport or Corazon de Jesus (CZJ) as destination airport. Captain will wait for you directly at airport.
Typical Plane in San blas
Kuna Yala Entrance fee
In addition to this, you'll have to pay the kuna yala entrance fee, which is 22$ for non resident and 12$ for resident